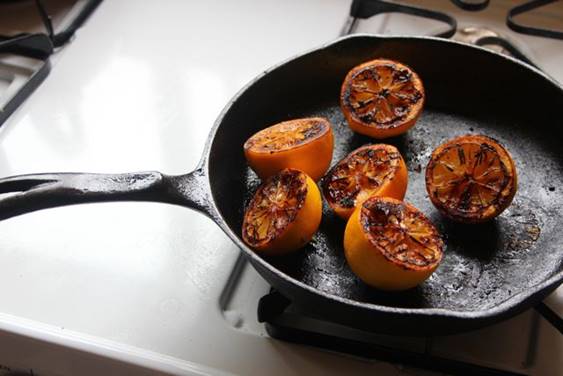 Going from an idea to production…(cute to brute) that is the highest hurdle. I can make all sorts of delicious things at home….in my scrubs, listening to Coltrane, sipping a glass of wine…getting that recipe stamped "OK" for production is another matter. You have to think about your crew, the machines you have, the time it takes etc. As much as I admire Martha Stewart…sometimes an admiration for Henry Ford is more useful. The final result needs to have all the flavor and character of the original idea/recipe. And it must be reproducible in large batches (we make our most popular dressings 40 gallons at a time).
I like to roast, grill, sear fruit…it brings out unexpected flavors. Here we roast Meyer lemons after juicing and de-seeding them for a charred note. We blend the whole fruit into the dressing which adds body and a slight bitterness which plays nicely with the sour/sweet fresh tang of the Meyer lemon juice.
Roasted Meyer Lemon Vinaigrette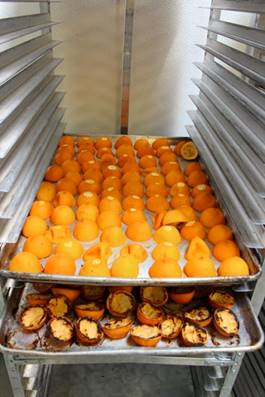 3 Meyer Lemons- juiced and de-seeded- juice reserved
2 cloves garlic- blanched (briefly boil or microwave for 1 minute)
1 clove garlic- raw
2 tsp Dijon mustard
3/4 cup extra virgin olive oil
Honey (perhaps)
salt & pepper to taste
Juice and de-seed the lemons reserving the juice then grill, roast or sear the fruit to achieve some char.
Blend all ingredients except the oil until smooth.
Drizzle in the olive oil while blending to achieve an emulsion.
As the sugar content of Meyer lemons is highly variable so add honey to taste.