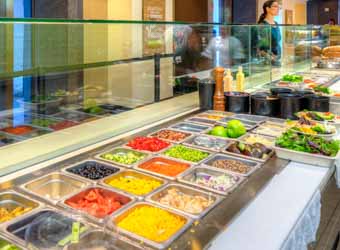 Hours:
Weekdays: Mon-Thur 10:00 - 9:00, Friday 10:00 - 7:00
Weekends: 12:00 - 7:00
Holiday Hours:
Please call for details.
Seasonal Salads
Shredded cabbage, free-range chicken or organic tofu, tomatoes, English cucumbers, sunflower seeds, peanuts, sesame seeds, dried garlic, crunchy split peas, cilantro & lime wedge with fermented tea leaf dressing.
Crisp romaine, free-range chicken breast, candied walnuts, Granny Smith apples, celery & grapes with poppy seed dressing.
Arugula Mix, free-range chicken, watermelon, feta, tomatoes, English cucumbers, mint & za'atar spiced pita chips with summer lime vinaigrette.
Seasonal Grain Bowls
Farro, massaged kale, black eyed peas, marinated red peppers, cabbage, peanuts, cilantro, mint, scallions & lime wedge with Caribbean green dressing.