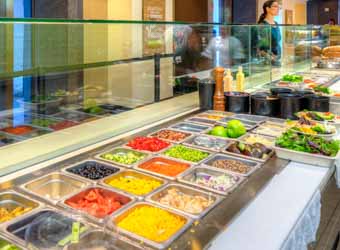 Hours:
Weekdays: Mon-Thur 10:00 - 9:00, Friday 10:00 - 7:00
Weekends: 12:00 - 7:00
Holiday Hours:
Thanksgiving Hours:
Nov 27 (Wed): Open until 2 pm
Nov 28 – Dec 1 (Thu – Sun): Closed
A luscious, simmered puree of zucchini and blue Cheese finished with chunks of roasted zucchini and a splash of cream.
A luscious puree of Tillamook sharp cheddar, potatoes & aromatic vegetables accented with a rich, malty dark beer.
Grilled chicken breast, carrots & mushrooms in a rich red wine & tomato reduction with caramelized onions & garlic.
Seasonal Salads
Organic mixed greens, massaged kale, free-range chicken, roasted sweet potato, Granny Smith apples, feta & toasted pumpkin seeds with curry maple vinaigrette.
Spiralized zucchini, free-range chicken, cabbage, English cucumbers, red bell peppers, carrots, sesame seeds, cilantro & scallions with miso sesame vinaigrette
Arugula Mix, free-range chicken, roasted sweet potato, crispy chickpeas, avocado, pickled red onion & cilantro with pomegranate vinaigrette.